College Launches "Because of you, I..." and Welcomes Dean Whitman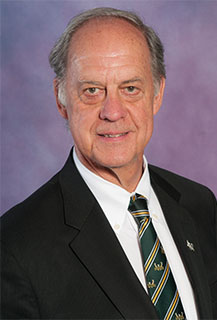 The College of Education launches campaign of "Because of you, I…" and welcomes Russell Douglas Whitman as dean of the College of Education. Dean Whitman served as interim dean for the past eighteen months and in January, Provost Margaret Winters' announced his appointment as dean of the college. "It has been a great honor and privilege to get to know this hardworking, committed and extraordinary community over the past eighteen months. We've made some remarkable strides in our short time together, and I look forward to making many more with you in the next few years," says Dean Whitman. He went on to say, "I am eager to work together to do our part in making Wayne State a pre-eminent, public, urban research university known for academic and research excellence, success across a diverse student body and meaningful engagement in its urban community."
The College's "Because of You, I…" campaign provides an opportunity to recognize a teacher, coach, mentor, counselor and/or principal that significantly made an impact on one's life. Dean Whitman credits a philosophy professor for making an impact on his life at a critical point of his undergraduate education. Whitman wrote, "I was on academic probation after my Freshman year at Syracuse University. I received grades all over the place. In order to return as a sophomore I had to successfully raise my GPA. Professor Fernando Molina, Syracuse University, taught philosophy. He taught more than that - he taught his students how to think. He taught me that I could think and I could even excel. Because of you, I remained on the dean's list for the remainder of my undergraduate career, obtained a Ph.D., and became a professor- a professor that I hope has occasionally inspired a student as you did me."
Several hundreds of responses have been received since the campaign launched on Monday, February 15, 2016. Stefan Carter, COE student in the Teacher Education Division wrote:
Pamela Howard, Hutchinson Middle School, cared for her students deeply and disciplined us appropriately. I never told her how much I cared for her. She stayed on my head and I needed it. Unfortunately, she passed from Lupus before I could tell her thanks. Because of you, I will care and discipline my students just as you did us. I hope I will be able to see them become good people in the future.
Ghana Hussein, another future educator, wrote:
Jerry Herron, Wayne State University, challenged us to ask questions of ourselves before our first semester at Wayne State. Who are we? Where are we going? What should we do? At that time, I was informed that I would need to enroll in a course entitled, "Honors 1000: The City" in order to be able to accept my scholarship. Based on the information I had gathered, I wasn't too excited about the course. I was a Pre-Medicine student at the time and just wanted to focus my attention on my science classes. Fast forward through a semester of wisdom, whimsicality, and an awe-inspiring experience courtesy of Professor Dean Herron… my life changes. Who am I? Where am I going? What should I do? Such simple, yet utterly complex questions. Yet, I had never given them the time they deserved. After months of introspection, I discovered myself. I am not a doctor. I am an educator. I want to inspire, nurture, and teach. I want to be in a school-setting. I want to do for others what Dean Herron did for me. Because of you, I want to revolutionize education in America so that all children can realize and actualize their true talents.
We would like to hear your story about that individual who made such a significant impact, so help us to inspire the next generation of educators by honoring the remarkable members of the educational community who have helped students aim higher. At the same time, inspire the next generation of educational leaders in the community.
Visit coe.wayne.edu/because-of-you/ and share and spread the message of how to make a difference in the educational community.
We post responses to our College of Education Facebook page and to inspiringteachers.wayne.edu, so be sure to connect with us there.
Spotlight
The College of Education annual job fair in conjunction with the Graduate Program Showcase will be held on Thursday, May 12, 2016, from 9:00 - 1:00 p.m. in the Student Center Ballroom (Second Floor) on the main campus of Wayne State University.