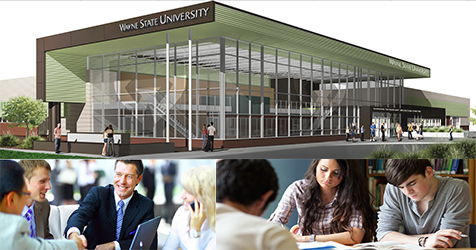 Careers in Education - Article Series What Can I do with a Degree in Instructional Technology?
By: LaSondra Dawn
Careers in education are rewarding professions where individuals can give back and make a difference in the lives of others. Since opening its doors in 1881, the College of Education (COE) has prepared great urban educators for work both inside and outside the classroom. The COE offers certification and degree programs for everyone including those who already have degrees in Biology, Business, Chemistry, Communication, English, and more. The COE also has degree programs in Administrative and Organizational Studies, Counselor Education, and Kinesiology, Health and Sport Studies. Contact the College of Education today at coe.wayne.edu, REQUEST INFORMATION to find out how you can take your profession to the next level!
As part of an article series, The Educator is exploring various career opportunities in the field of Education. The first featured program is Instructional Technology.
COE's Instructional Technology (IT) program focuses on efficient and effective learning as achieved through "designing instruction (including all the phases of activity from needs assessment to evaluation); applying learning theory to instructional design; selecting delivery systems and designing techniques for a given delivery system; assessing human characteristics; conducting process and product evaluation; managing change and adopting innovations; building teams and managing projects; integrating instruction with other factors that influence human performance; implementing delivery to reach learners when they need it; and using technology in support of the development and delivery of instruction."
The need for Instructional Technology can be found in a variety of professional settings including K-12 and higher education, health care, the business world, non-profit companies, and government agencies. Human resource professionals often use instructional technology for the training and development of new and/or existing employees.
In a recent interview, Dawn Aziz, Director of Organization & Employee Development at Wayne State University shared her experience in the Instructional Technology Program.
The Educator: Dawn, why did you decide to pursue a doctorate in Instructional Technology (IT)?
Dawn: I love teaching in higher education and am hoping that I may be better positioned to teach IT/HPT related courses at local four-year institutions.
The Educator: How has Instructional Technology helped you in your current position?
Dawn: Every single course has benefited me in my professional role at WSU. I didn't realize just how much had changed in our field until I began taking these courses. Each of the core courses, such as Needs Assessment and Evaluation as well as Advanced Instructional Design, allowed me to apply real-world experiences and provided me with strategies and take-away templates that I could in my current role as well as share with others in the department. The web-based courseware course enabled me to more credibly speak about the eLearning done in our department; the HPT, strategic planning and project management courses provided just-in-time solutions as I worked on specific special projects with clients in WSU Schools, Colleges & Divisions. In each and every course, I was able to relate the content to specific initiatives in my role and in my department as well as receive new evidenced-based insights for approaching my work based upon recent research. It also gave me a stronger appreciation for the work our faculty and staff do and has enabled me to craft strategies to better serve them as a part of WSU HR as a result.
By the way, the research courses in this program have also been highly interesting. I didn't expect to enjoy them as much I did and can now see how connected these courses are to improving day-to-day practice in performance improvement as well as how they prepare me for my dissertation.
The Educator: What has been your overall experience in the IT Program in the College of Education?
Dawn: Far and away, WSU IT has been my best academic experience. Never once did faculty in other institutions I attended speak about research or encourage me to get involved in professional associations or learning communities. In my very first semester, Dr. Moseley encouraged me to publish an article. His mentorship and that of my advisor, Dr. Guerra-Lopez as well as of other faculty members have been transformative. As a result of WSU, I feel so much better equipped to respond to real world IT challenges and opportunities as well as supported while I work toward my long-term goal of teaching. I wouldn't be where I am today without this program.
The College of Education offers several degree programs in Instructional Technology including: Master's, Education Specialist Certificates, and Doctoral degrees. Students can choose between two tracks: Design and Performance Systems and K-12 Integration. Design and Performance Systems is for individuals interested in "obtaining employment or advancement in non-school settings in instructional design, performance improvement or multimedia." The K-12 track is for teachers who are interested in "learning technologies available to them to use in their classrooms and want to create dynamic lessons integrating technology".
Careers in Instructional Technology include, but are not limited to: Instructional Designers, Training Coordinators/Directors, Program/Project Managers, Media Specialists, Interface and Multimedia Designers, IT and Computer Training Managers, Performance Support Specialists, Instructional Material Designers, Educational Consultants.
If you would like to learn more about degrees and career paths in Instructional Technology, contact Dr. Tim Spannaus or visit the Instructional Technology website.
[LaSondra Dawn is an Academic Advisor II in the Academic Services Division and a member of the college's Communication Team.]
Spotlight
Interested in completing your Bachelor's, Master's or Doctoral degree in one of over 70 different fields, right on the Macomb Center campus? Representatives from Wayne State University and several other partner colleges and universities will be available to discuss how this unique partnership can work for you.